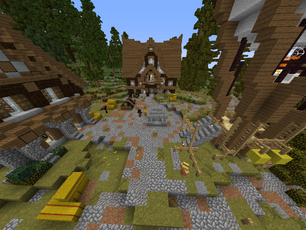 Burmistrz pomimo prowadzenia miasta, zajął się też maleńką wioską, w której każdy może zacząć przygodę. Połączył obie lokacje przez transport i teraz jest to skupisko osób, które stawiają swe życie na szali, by zdobyć wszystko, co tylko jest możliwe. Wokół wioski krążą bandyci a także wilki, powiada się także, że zagłębiając się dalej można znaleźć jaskinię trolli lub cmentarz, na którym martwe kości ożywają i kontynuują rzeź. W górach zaś można znaleźć olbrzymie pająki lub zmutowane potwory... Plotki mówią, że część ludzi z Imperium nadal się panoszy na naszych ziemiach i nawet mają swoją siedzibę. Ludzie określają Harrenhal miastem początku i końca... Ta wioska jest jedyną ostoją spokoju poza Stolicą. W każdym innym miejsu poza wyzwaniami za rogiem czai się widmo śmierci, uważaj na siebie...
Postacie w mieście:
Ad blocker interference detected!
Wikia is a free-to-use site that makes money from advertising. We have a modified experience for viewers using ad blockers

Wikia is not accessible if you've made further modifications. Remove the custom ad blocker rule(s) and the page will load as expected.