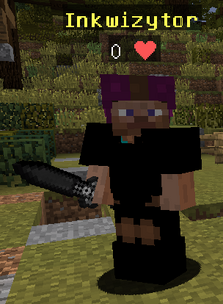 Hej, młody! Chcesz zarobić? Jeśli tak, podejdź... Wyjaśnię Ci, co musisz zabić. Co robisz takie wielkie oczy? Myślisz, że co? Zbierając kwiatki zarobisz tu na życie? Trafiłeś do złego miejsca... Ale zrobię z Ciebie ludzi!
Funkcje:
Od niego otrzymujesz zadania na wybicie konkretnych potworów. Po wykonaniu jednego zlecenia możemy wziąć od razu nowe. Tych NPC znajdziemy w każdym ważniejszym miejsu.
Ad blocker interference detected!
Wikia is a free-to-use site that makes money from advertising. We have a modified experience for viewers using ad blockers

Wikia is not accessible if you've made further modifications. Remove the custom ad blocker rule(s) and the page will load as expected.