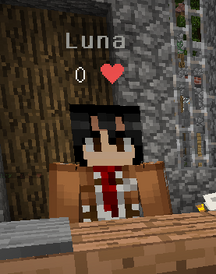 Nie drażnij mnie! Pewnie chcesz, bym Ci powiedziała, jak możesz wystawić przedmiot? Mam dość tej roboty, przychodzicie tu i nawet żadnego PROSZĘ! Ciągle tylko ten ton rozkazujący... Co wy sobie myślicie... Wielcy mi wojownicy, a sprzedają kawałki drewna. Czasami przyjdą jacyś mili chłopcy, aż miło porozmawiać. Ale to rzadko... W sumie... Co chciałeś ode mnie?
Funkcje:
Klikając na Lunę, na czacie dostaniesz wszystkie informacje na temat Domu Aukcyjnego. Dodatkowo podpowiadam, by wystawić przedmiot, musicie stanąć na przycisku obok tego NPC.
Ad blocker interference detected!
Wikia is a free-to-use site that makes money from advertising. We have a modified experience for viewers using ad blockers

Wikia is not accessible if you've made further modifications. Remove the custom ad blocker rule(s) and the page will load as expected.