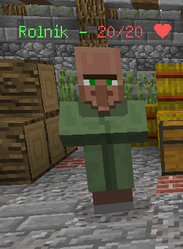 Chłopcze, mam świeże zboże! Może chciałbyś kupić? Uprawy w tym roku były dość ciężkie, ponieważ ostatnio w tych rejonach pojawiło się mnóstwo wilków, nie wspominam o innych dziwactwach... Kto jak kto, ale ja łopatą się nie obronię. Być może wilki pokonam, ale jeśli zaatakowałby mnie bandyta, miałbym nie lada problem. Jeśli byś czegoś potrzebował, przyjdź, może dam radę Ci pomóc! Bywaj.
Funkcje:
U Rolnika możecie zakupić takie przedmioty: zapalniczka, zboże, łopata, grzybki.
Ad blocker interference detected!
Wikia is a free-to-use site that makes money from advertising. We have a modified experience for viewers using ad blockers

Wikia is not accessible if you've made further modifications. Remove the custom ad blocker rule(s) and the page will load as expected.